Ivan Matveiovitch Mouravieff-Apostol (1768 - 1851)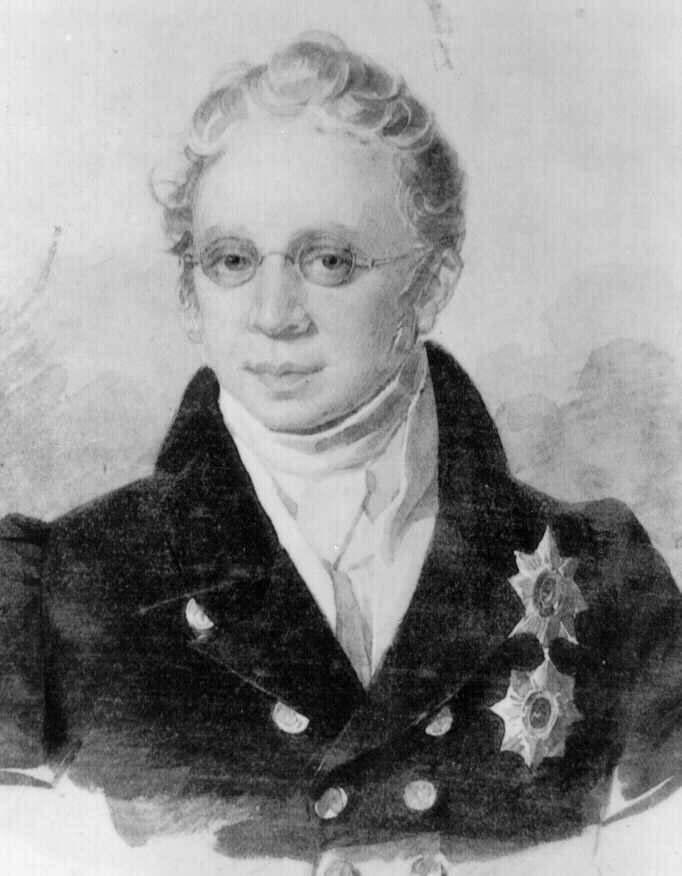 Ivan was the son of Major General Matthieu Artamon Mouravieff who married the daughter of Hetman Apostol. He was born on 1 October 1768 and received his primary schooling at a German boarding school. He was enrolled at an early age in the Izmailovsky Regiment and due to his grasp of languages soon attracted the attention of Catherine II who made him a Knight in charge of her grandchildren in 1792. With the ascension of Paul I, Ivan was assigned as Resident Minister to the Duke Of Oldenburg in Euten, Germany and in 1799 he was sent to Denmark as special envoi. In 1800, he was recalled to serve as Private Advisor to the College of Foreign Affairs. That same year, his cousin, M. Apostol being the last to hold the name Apostol, obtained special permission for his name and property to be transferred to Ivan who subsequently became known as Mouravieff-Apostol.
In 1802, Ivan was named Ambassador to Madrid, Spain and was charged with the duty of following the exploits of Napoleon for whom he had a particular dislike. After incurring the displeasure of the Emperor, Ivan was retired in 1805 and moved to his home in Khomutetz, Poltava O'blatz, Ukraine. He dedicated himself to the pursuit of science and literature. He was named Senator and Member of the Board of Directors of the Board of Education where he heartily defended the need for education to overcome illiteracy. While at Khomutetz, originally built by the Hetman Apostol around 1730, Ivan translated the classical works of Horace, Cicero and Aristophanes. Between 1813 and 1815, the Syn Otetchestva published his Letters from Moscow to Nijny-Novgorod where he defended his idea that all of Russia's ills were the result of a national social conscience which resulted in an attachment to secular prejudgments and a blind following of whatever was in vogue. Despite his dislike for and constant critique of Napoleon, Ivan constantly spoke French and sent his children to school in Paris.
In 1820, he made a trip to the Crimea. To prepare, he studied at length both ancient and modern writings about the Crimea. Following his return, he published his findings in Voyage in Tauride (1823) which still remains to this day a valuable reference book. Ivan was a member of the Russian Academy, the Free Society of Students of Literature, Science and the Arts. He had a good relationship with such famous writers as Olenine, Karamzine, Gneditch, and above all Batiuchkov who had given Ivan the nickname of Alcibiades. Ivan was also an excellent musician and singer.
His first marriage was to Anna Tchernoevitch in 1790 and together they had seven children - three boys and four girls. She was the daughter of a military officer and spent most of the time in Paris bringing up the children. The sons, Mathieu, Serge and Hyppolite would later cause their father great pain after being convicted of being involved in a Rebellion against the Czar. The daughters, Anna, Elizabeth, Katerina and Ellena married successfully into society. Following the death of Anna in 1810, Ivan remarried in 1812 to Prascovie Grouchetzky. She had been born in 1780. Together they produced another son, Basil born in 1817, and two daughters, Eudoxie and Elizabeth. Eudoxie became the Princess Khovansky and died in 1850 while Elizabeth married Baron Stalting of Widburg.
His three sons comprised the ill-fated Decembrist Movement nucleus which culminated in a rebellion in December 1825. The involvement of his sons in this uprising and their miserable end (one being executed, the other committing suicide and the last being banished to exile in Siberia) was too much and Ivan resigned from all his posts and retired to San Remo in Italy where he spent the last 25 years of his life with his gravely ill wife. He returned to Russia from time to time and Scnitzler, in his personal memoirs once wrote about Mouravieff-Apostol during one of these visits that "alas, he still lives". During his last trip, he finally died in St. Petersburg on 12 March 1851. He was buried in the Okhta Cemetery but the grave has long since disappeared.